Hacienda Barú
Hacienda Barú is one of the oldest ecotourism projects in Costa Rica. The majority of this large property is regulated by MINAE (Ministry of Environment and Energy) under the National Wildlife Refuge system. Payment of the park admission fee gives you access to 7 Km of trails and 3 Km of wild beach open to the public. The trail entrance fees are included in the price of the rooms for their guests.
Hacienda Barú es uno de los proyectos ecoturísticos más antiguos de Costa Rica. La mayoría de esta propiedad es regida por el MINAE (Ministerio del Ambiente y Energía) como Refugio de Vida Silvestre.
El pago de admisión al parque nos da acceso a 7 Km. de senderos y 3 Km. de playa natural abierta al público. La entrada a los senderos está incluida en el precio de las habitaciones para huéspedes.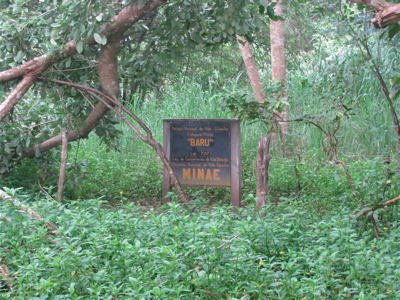 Hacienda Barú does have some more back country trails, which are only open to guided hikes. 
Of the 7 Km of self-guided trails, only the 2.5 Km Lookout Trail (sendero Mirador), is a loop of moderate difficulty. All the other trails are well designed and very easy. This makes it perfect for seniors, families with young children, and those who want to walk slowly and look for wildlife. 
Hacienda Barú también tiene senderos internos, los cuales sólo están abiertos para caminatas guiadas.
De los 7 Km. de senderos auto-guiados, sólo el Sendero Mirador, de 2.5 Km. es una vuelta con dificultad moderada. Los demás senderos están bien diseñados y son bastante fáciles, lo cual es perfecto para adultos mayores, familias con niños pequeños, y quienes quieran caminar despacio y ver vida silvestre.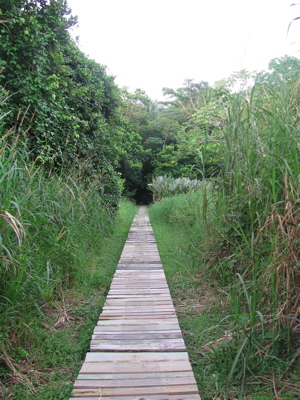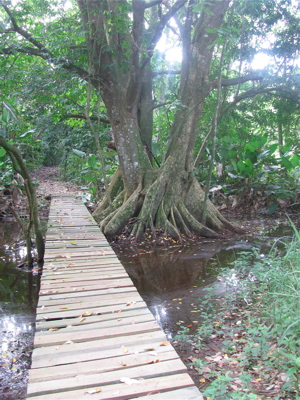 The Refuge combines ocean, wetlands, river, coastal mountain, farmland, and both primary and secondary forest environments. For ambitious hikers, combining all the trail loops with a beach walk to the mouth of the Barú river, will take in all the different terrains and be a great workout. Hacienda Barú is also an excellent place to do a night trail walk, or night beach walk depending on the weather and tides.
El Refugio combina ambientes de océano, pantano, río, montaña costera, finca y bosque, tanto primario como secundario. Para caminantes ambiciosos, se puede combinar todas las vueltas de los senderos con una caminata por la playa hasta la boca del río Barú comprenderá todos los diferentes terrenos, siendo un gran ejercicio. La Hacienda Barú también es un lugar excelente para caminar de noche, o por la playa, dependiendo del clima y las mareas.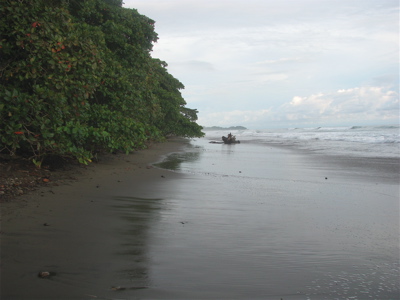 Hacienda Barú is located 3 Km north of Playa Dominical on the new Costanera Sur highway from Quepos. Check out their web site for more info on accommodations and tours.
Hacienda Barú está situada 3 Km. al norte de Playa Dominical, por la Costanera Sur que viene desde Quepos. Visite su página web para más información sobre hospedaje y tours.
http://www.haciendabaru.com