A potrero is a meadow where "potros" (colts) graze.
Costa Rica offers many opportunities to walk and picnic on these private lands. If there's a pedestrian gate, chances are it's okay to trespass.
Costa Rica ofrece muchas oportunidades de caminar y hacer picnic en potreros privados. Si hay un portón para caminantes, lo más probable es que se pueda entrar sin requerir permiso.
 Sil and I usually walk around our potrero every morning, which is her only opportunity to exercise (she tends to be stationary doing art all day long).
Sil y yo usualmente vamos a caminar por el potrero todas las mañanas, siendo ésta la única oportunidad de que ella haga ejercicio (ella tiende a sentarse todo el día a hacer su arte).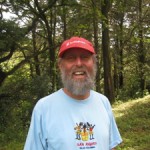 Potreros usually have "dormilonas" (sleepers), which are plants whose leaves close when you touch them. "Our" potrero just had dormilonas in bloom with their cute purple puff. Another comon plant is Santa Lucía, which blooms mostly in January. "Santa Lucía en enero, pa que no falte el dinero" (Santa Lucia is given to people in January, and you must put it inside your wallet so it'll attract money all year round).
Los potreros casi siempre están llenos de dormilonas (plantas cuyas hoja se cierran al tocarlas). "Nuestro" potrero tuvo dormilonas en flor hace poco. Otra planta común en la Santa Lucía, la cual florece especialmente en enero.
Frambuesa is a wild boisenberry. In Costa Rica it's common to see the plants with blooms and berries all year round. There's also wild blackberries in our area.
En Costa Rica es común ver las frambuesas con flor y fruta todo el año. También hay moras silvestres en nuestra zona. 
Now you know where the locality of "Potrero Cerrado" (Closed Meadow,) in Cartago, gets its name!
Ya sabes de dónde viene el nombre de "Potrero Cerrado" de Cartago!  
Look at the V space next to the actual gate.  This is very common in Costa Rican potreros.
Observa la entrada en V a la par del portón. Esto es muy común en los potreros ticos.
More potrero pics – Más fotos de potrero: