One of the most scenic hikes. Caminata pintoresca.

Barva Volcano is dormant (or so we hope!) and occupies the largest volcanic land area in Central America: its massive expands for a square mile, with an altitude of 9500 feet. Even though it is only 4 miles away from my house as the toucan flies, driving there takes about an hour through hills and curves, but it's a beautiful hiking destination.
El Barva es un volcán dormido (o por lo menos, ¡eso esperamos!), el cual ocupa la extensión volcánica más grande de Centroamérica: su masivo se extiende 1500 kilómetros cuadrados, con una altitud de 2900 metros sobre el nivel del mar. A pesar de estar a escasos 6 kilómetros aéreos de mi casa, por carretera toma una hora llegar allí. Es uno de mis destinos favoritos para caminar.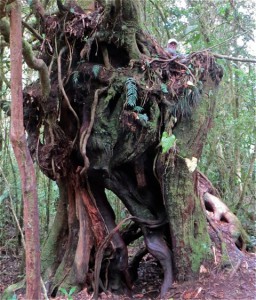 The old crater is now a lagoon 26 feet deep and 230 feet in diameter, with temperatures between 50º and 64ºF., and cloud forests all around.
El viejo cráter es ahora una laguna de 8 metros de profundidad y 70 metros de diámetro, con tempera-
turas entre 10º y 18ºC y rodeado de bosque nuboso.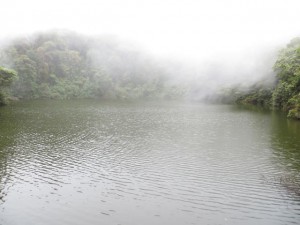 My daughters used to call it, "the enchanted forest". Barva is known for its fantastic vegetation and hiking trails.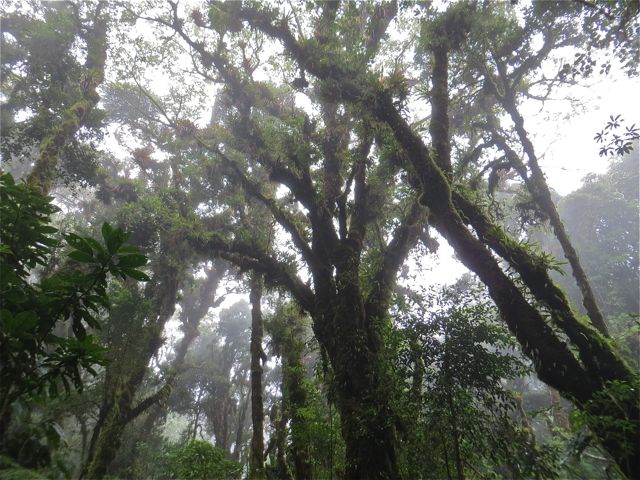 Mis hijas usaban llamarlo "el bosque encantado". El Barva es famoso por su vegetación fantástica y sus senderos para caminar.