Nuestra agua proviene de manantiales a escasos dos kilómetros de distancia: es dura. Por eso, a nuestros huéspedes les ofrecemos champú y acondicionador orgánicos, de acuerdo con nuestra meta de llevar una vida saludable y amistosa con nuestro ambiente. Desgraciadamente, pocos huéspedes aprovechan esta oportunidad, a pesar de que los productos orgánicos certificados sean caros, sea difícil obtenerlos y además, los champús los hacen de acuerdo al Ph de cada región.
Es impresionante lo arraigados que estamos los humanos modernos, a la cultura de químicos y productos tóxicos…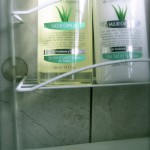 Our water comes from springs about a mile away: it is hard. Therefore, we offer our guests organic shampoo and conditioner, according to our goal to live a healthy and environmentally friendly life. Unfortunately, few guests take advantage of this opportunity, despite the fact that certified organic products are more expensive and difficult to obtain and, also, shampoo's pH usually goes according to each region. 
It's amazing how we humans, are stuck to a culture of chemical and toxic products...